This is whalespine.org. This is my website. Whalespine.org is basically a clearing house for all things Tim and Tim-related. From software and websites I develop and maintain, to my blog and to what ever else suits my fancy at any given time. It is all right here and it is all all right.
I am a software developer currently living in Calgary, Alberta, Canada with my wife Andrea and all our pets (two dogs, two budgies, one rabbit and one fish). I have worked in various industries (telephony, oil & gas etc), building various types of applications (web apps, high availability server apps, GUI apps) in many languages (Java, C++, C#, Ruby). Check out my resume for more info about my experience. In my spare time I enjoy hacking random projects, walking the dogs, and experimenting with coloring my lawn various shades of brown.
Below is a shot of the whale vertebrae that inspired the name of this website. My sister brought it home for me from Sable Island where she was doing her PhD work in marine biology. It is a pretty unique object to have in one's living room if I do say so myself.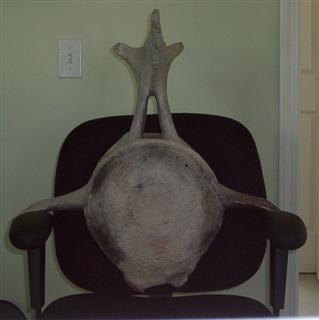 The vertebrae hard at work.
whalespine.org, as well as other websites I am hosting, runs on a Linux VPS from RimuHosting out of New Zealand. I highly recommend their service. Not too expensive and their ops guys are always quick to look into and resolve any issues that arise (which isn't often). And they concentrate on Linux, so giddy-up.